Brisbane's Premier
Luxury Country
Retreat
Whether it's the stunning views or exquisite food, Woodlands of Marburg has plenty to offer our guests. Located halfway between Brisbane and Toowoomba, and only 20 minutes out from Ipswich, our Estate is the perfect destination for a weekend getaway or event.
Tommy Smith was an early Queensland pioneer who worked alongside his father in his timber milling business. After inheriting the enterprise, he moved into sugar cultivation and manufacture as well as operating a large rum distillery on the property. Smith also began to plant grapes on the Woodlands estate, expanding into the production of wines and brandies. Tommy Smith was also a keen gardener who developed mango and olive plantations. Tommy married Mary Stuart in 1881, the daughter of the headmaster of the local School and had 11 children together! They built their new family home which is perched on a commanding hilltop, which stands today as the iconic Woodlands of Marburg.
Make yourself comfortable in any of our serene and spacious Deluxe or Executive suites. Rooms are beautifully appointed and each has it's own unique styling. What better place to stay in comfort than at Woodlands Country Inn for your Queensland getaway.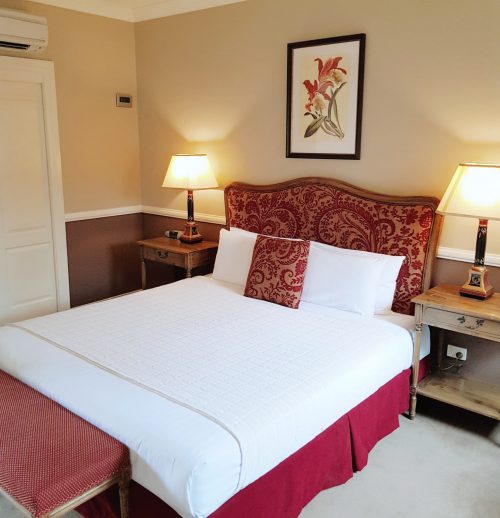 Nestled on 250 acres of lush green gardens and rolling hills, Woodlands of Marburg is the perfect setting to host your celebrations from Private Events, Engagement Parties, Weddings and more.
We offer countless picturesque backdrops for your special event from our heritage listed Mansion, numerous gardens and lawns, iconic Fig Tree Hill Vineyard with views over Marburg Ranges to our historic 19th Century Country Chapel.

Whether you wish to host a grand formal event or a small intimate gathering, we can cater to your every need. Located just 45 minutes from Brisbane CBD and 45 minutes from Toowoomba, Woodlands of Marburg is the perfect venue for your ceremony, reception and guest accommodation.
Specialising in corporate retreats, Woodlands of Marburg is a plantation-style estate which belies an intriguing past. We offer the ideal setting for anyone looking for a conference venue, meeting room or corporate retreat.  Only a 40 minute drive from Brisbane, our venue emanates old-world charm together  with modern facilities, allowing your employees to escape outside distractions. 
.
Welcome to the trendy Tommy Smith Cafe at Woodlands of Marburg. Our fully licensed cafe is a tribute to the original owner of the Woodlands estate Thomas Smith.. The cafe itself which overlooks the Marburg valley was originally a chapel for the Priests of the old St. Vincent's Seminary (1944- 1986). Open Saturday and Sunday 830am – 230pm.
Welcome to Woodlands of Marburg's premium offering- The Sugarmill Restaurant. Join us for a night of luxury and extravagance at the private residence of Queensland Sugar Baron Tommy Smith. Warm up with a drink in the lounge, then dine in style within the beautiful warm cedar lined walls, under the glistening chandeliers, while you are transported back to a time of elegance and splendor!
Welcome to The Haunted Mansion! To all you lovers of the paranormal, one of the most magnificent and majestic old world buildings 'Woodlands of Marburg', circa 1890 is an historic Mansion and its grounds are rich with history and tales of its previous owners and other-worldly visitors. The 130 year old Mansion is haunted by the ghosts of its original owners as well as some priests who passed away within the Mansion after it was turned into a Seminary in 1945. Many locals tell of legends of spirits, including one former servant at the Mansion, who was pushed to her death down the master staircase. A ghost of a young child, Billy has allegedly been seen running around the first floor. Mrs Smith has also been sighted on several occasions looking out over the property from the master bedroom. Staff often share their reluctance to venture upstairs or down into the cellar, as they frequently have the feeling of being watched and on several occasions when closing up for the night, have seen the fleeting shadow of a figure going up the staircase. Join us for a guided night tour of 'The Haunted Mansion' delving into the rich historical stories and ghostly tales of yesteryear. The Haunted Mansion is a must see for anyone who has a love of history and fascination for the paranormal. Contact us 0n (07) 5464 4777 to book your place. 
Location & Contact Details